Business
London loses position as most valuable European stock market
London loses position as most valuable European stock market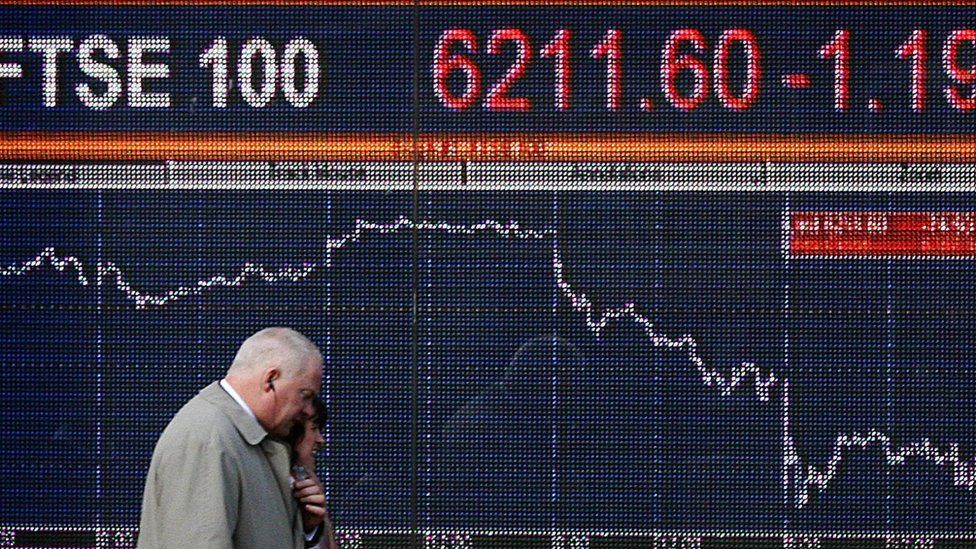 Britain's stock market has lost its position as Europe's most-valued, as the economic downturn weighs on UK companies, data shows.
France has taken the top spot as the combined value of its companies' shares have been boosted by currency movements and demand for French luxury goods.
It is the first time Paris has overtaken London since records began in 2003, according to data from Bloomberg.
The UK is expected to fall into recession this year as inflation rises.
The combined value of British shares is now around $2.821 trillion (£2.3 trillion), while France's are worth around $2.823 trillion, Bloomberg calculates.
London's FTSE 250 share index – which lists medium sized companies – has slumped by more than 17% over the last year as consumers and businesses struggle with rising inflation and higher interest rates.
However, the FTSE 100 index, which comprises the biggest companies, has largely remained flat, although the index is skewed towards firms based overseas and commodities producers which have been boosted by soaring oil prices.
According to Bloomberg, France's luxury goods makers helped to boost the overall value of the country's CAC 40 index of leading companies.
Shares in LVMH, which owns fashion house Louis Vuitton, have surged in the last six months as China eased lockdowns and its shoppers returned to pre-pandemic habits.
Chinese shoppers accounted for around 35% of global demand for luxury goods before the pandemic, according to Bloomberg data.
Financial markets were rocked by former chancellor Kwasi Kwarteng's mini-budget in September. He outlined tax cuts that had been the premise of former Prime Minister Liz Truss's leadership campaign but did not say how they would be paid for – something which sent the pound to its lowest level against the dollar, and which the governor of the Bank of England later said had damaged the UK's reputation.
The UK's image as a wealthy nation is further being squeezed by the rising cost of living. Like other countries energy prices in the UK have soared this year, while many British homeowners are also facing a rise in mortgage payments as the Bank of England raised interest rates.
In addition, the first year of the pandemic damaged the UK more than most economies. Since Brexit, it has been more difficult for small businesses to trade with Europe, with British firms having more limited access to pools of European workers, leading to a less resilient economy.
Brexit trading rules have also slowed the volume of shares traded in London, which led to Amsterdam ousting London as the largest financial trading centre in Europe in February 2021.
Published at Mon, 14 Nov 2022 14:51:52 +0000